Introduction
MATEX is a renowned name in the marketing of high end textile machines. We are into the business of textile machinery for more than 35 years and have obtained an envious position by our sheer grit and the philosophy of putting customers first. We are headquartered in Delhi and branch offices in Ahmedabad, Bhilwara, Ichalkaranji, Hyderabad and Mumbai. We represent a large number of Japanese, European and Indian principals to serve a wide variety of customers throughout India. The main categories include machine for weaving preparatory, weaving and all weaving related accesories. We have also been dealing in different project ranging from the technical know-how to efficient running of operations.

Fabricating a Success Story
MATEX has been engaged in selling high quality textile machinery as per the growing industrial requirements. We have set new standards for technical excellence in selling textile machinery. With a positive spark deep inside us to facilitate the textile industry in general, we have reached to the present stage. We provide both general and specialized machinery as per the specifications.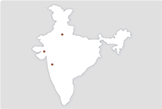 Head Office
Matex Services Pvt. Ltd.
N-145 Basement, Greater Kailash, Part-1
New Delhi-110048 (INDIA)
Telephone: +(91)-(11)-29241067
+(91)-(11)-29241068
E-mail: matex@matexservices.com